ApexNeuro
Jump to navigation
Jump to search
"Our pioneering approach utilises non-invasive, evidence-backed modalities such as EEG and HRV to analyse a broad spectrum of cognitive and neurophysiological markers to efficiently and effectively assess performance. Our programme is engineered for high-performance domains (specialising in sports performance and youth development), working with individuals and teams at elite levels. Our analysis informs the individualised application of cognitive training strategies and neuromodulation therapies to optimise brain and nervous system function, recovery and enable athletes to access peak performance. "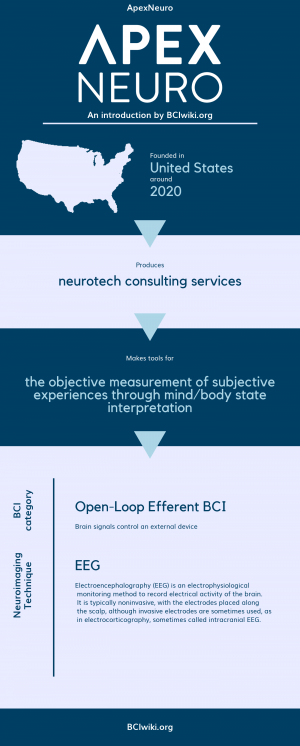 Founded in The United States around 2020, ApexNeuro produces neurotech consulting services.
ApexNeuro makes tools for the objective measurement of subjective experiences through mind/body state interpretation.
BCI Categories: Open-Loop Efferent
Neurosensing Technique(s): EEG
Links