Atys Medical
Jump to navigation
Jump to search
"We have been specialized in the design, manufacture and sales of transcranial Doppler devices and vascular physiologic diagnostic systems for 30 years.
Our state-of-the-art equipment are dedicated to angiology, phlebology, diabetic patient monitoring, neurology, anesthesia, resuscitation and intensive care."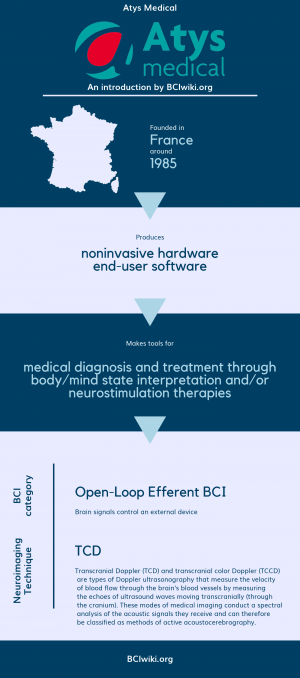 Founded in France around 1985, Atys Medical produces noninvasive hardware and end-user software.
Atys Medical makes tools for medical diagnosis and treatment through body/mind state interpretation and/or neurostimulation therapies.
BCI Categories: Open-Loop Efferent
Neurosensing Technique(s): TCD
Links