BrainSpec
Jump to navigation
Jump to search
"BrainSpec is a health-tech company that enables the accurate, efficient and non-invasive diagnosis of brain disorders" "BrainSpec is a comprehensive web-based software platform designed to make MRS technology accessible to clinicians and researchers alike. The software combines a linear combinations model based post-processing back-end that represents the most accurate method of measuring brain metabolites with a highly intuitive and user-friendly front-end web-based user interface. This combination allows for high analytical performance while maintaining ease of use and results in reduced case processing time, leading to higher output and lower costs"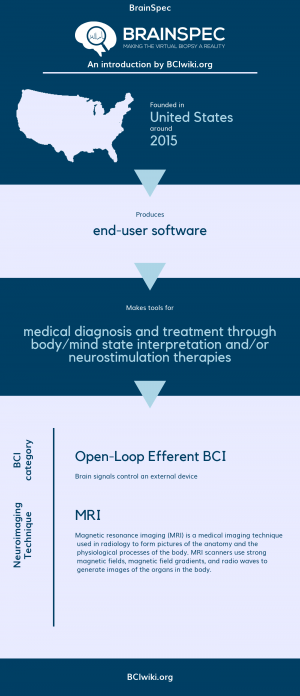 Founded in The United States around 2015, BrainSpec produces end-user software.
BrainSpec makes tools for medical diagnosis and treatment through body/mind state interpretation and/or neurostimulation therapies.
BCI Categories: Open-Loop Efferent
Neurosensing Technique(s): MRS
Organizations
Links