Brain Image Analysis
Jump to navigation
Jump to search
"Brain Image Analysis is a small business operated specifically to provide services to researchers who have need for brain morphology measures. Our research is focused on developing and implementing methods to measure what you need. If we don't already have procedures to meet those needs, accurately and efficiently, we are likely already working on them."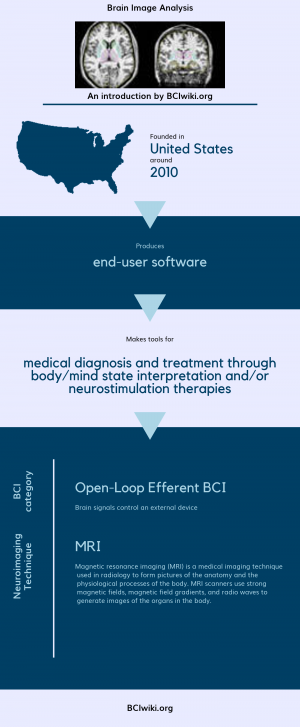 Founded in The United States around 2010, Brain Image Analysis produces end-user software.
Brain Image Analysis makes tools for medical diagnosis and treatment through body/mind state interpretation and/or neurostimulation therapies.
BCI Categories: Open-Loop Efferent
Neurosensing Technique(s): MRI
Links