Cala Health
Jump to navigation
Jump to search
"Cala Health is a bioelectronic medicine company transforming the standard of care for chronic disease. The company's wearable neuromodulation therapies merge innovations in neuroscience and technology to deliver individualized peripheral nerve stimulation. The first indication for Cala Health's wearable therapy is essential tremor, a disease experienced by more than seven million people and characterized by severe hand tremors. New therapies are under development in neurology, cardiology, and psychiatry. The company is headquartered in the San Francisco Bay Area and backed by leading investors in both healthcare and technology."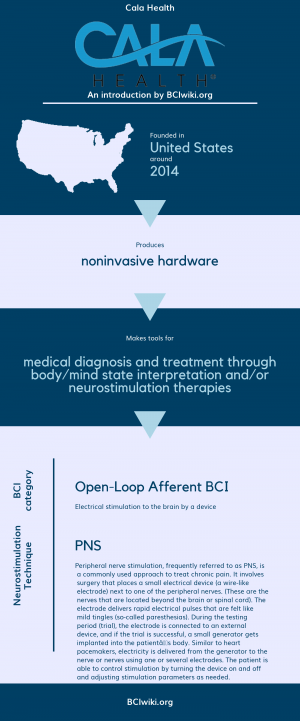 Founded in The United States around 2014, Cala Health produces noninvasive hardware.
Cala Health makes tools for medical diagnosis and treatment through body/mind state interpretation and/or neurostimulation therapies.
BCI Categories: Open-Loop Afferent
Neurostimulation Technique(s): PNS
FDA
Cala Health has 4 medical devices registered with the FDA. Here are some of them:
Examples of FDA Approved Devices ( View List)

| Device ID | Device Name | Class | Category | PMA | PMN |
| --- | --- | --- | --- | --- | --- |
| K222237 | External Upper Limb Tremor Stimulator | 2 | Neurology | False | True |
| K182706 | External Upper Limb Tremor Stimulator | 2 | Neurology | False | True |
| K203288 | External Upper Limb Tremor Stimulator | 2 | Neurology | False | True |
| DEN170028 | External Upper Limb Tremor Stimulator | 2 | Neurology | False | True |
Links
Website Crunchbase LinkedIn TwitterFacebookInstagram YouTube