Cefaly
Jump to navigation
Jump to search
"We are a global team on a mission to solve the persistent problem of migraine through advanced therapeutic innovations. Our name, CEFALY (pronounced SEF a lee), is derived from céphalée, the French word for headache, and cephalic, a medical term that means related to the head.
Since 2008, we've continued to test and improve our proprietary device, CEFALY DUAL, to offer people with migraine a safe and effective, drug-free treatment."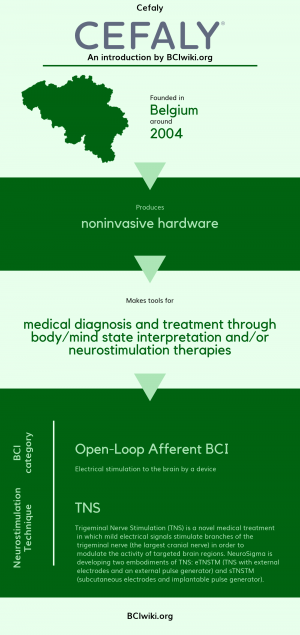 Founded in Belgium around 2004, Cefaly produces noninvasive hardware.
Cefaly makes tools for medical diagnosis and treatment through body/mind state interpretation and/or neurostimulation therapies.
BCI Categories: Open-Loop Afferent
Neurostimulation Technique(s): TNS
Links
Website Crunchbase LinkedIn GitHub TwitterFacebookInstagram YouTube