CoolTool
Jump to navigation
Jump to search
"CoolTool is an online platform for market research. Collaborative, easy-to-use platform allows you to do absolutely everything, from creating stunning professional surveys to running affordable biometric research. CoolTool NeuroLab includes Eye Tracking, EEG, Emotion Measurement and Mouse Tracking solutions. All of which are easily integrated into your questionnaire. This allows you to conduct neuromarketing projects with an ease of cloud technology."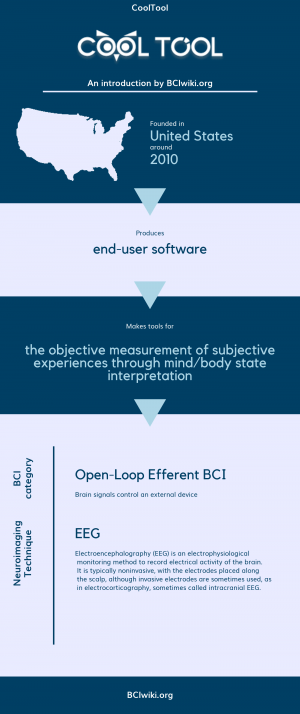 Founded in The United States around 2010, CoolTool produces end-user software.
CoolTool makes tools for the objective measurement of subjective experiences through mind/body state interpretation.
BCI Categories: Open-Loop Efferent
Neurosensing Technique(s): EEG
Links