CorticoMetrics
Jump to navigation
Jump to search
"CorticoMetrics was formed in 2012 to commercialize neuroimaging analysis software developed at the Massachusetts General Hospital (MGH), known to researchers worldwide as FreeSurfer. It was co-founded by Dr. Bruce Fischl, the Director of the Laboratory for Computational Neuroimaging (home of FreeSurfer) and Mr. Nick Schmansky, formerly the lab's Lead Software Engineer."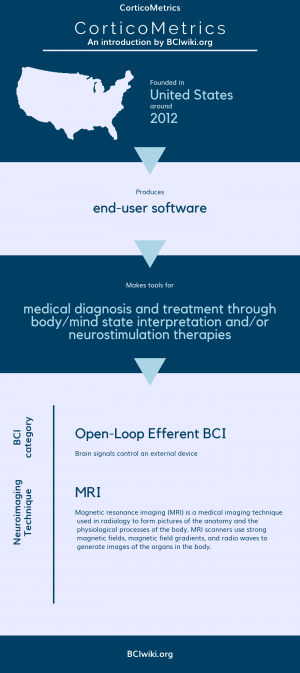 Founded in The United States around 2012, CorticoMetrics produces end-user software.
CorticoMetrics makes tools for medical diagnosis and treatment through body/mind state interpretation and/or neurostimulation therapies.
BCI Categories: Open-Loop Efferent
Neurosensing Technique(s): MRI
Links