Fisher Wallace
Jump to navigation
Jump to search
The Fishwer Wallace Stimulator is an FDA-cleared device designed to treat depression, anxiety and insomnia when used for 20 minutes, once or twice a day. The device works by stimulating serotonin production, alpha wave production and the brain's default mode network while lowering cortisol (the stress hormone).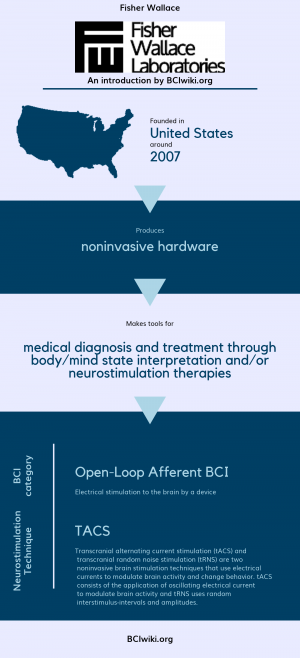 Founded in The United States around 2007, Fisher Wallace produces noninvasive hardware.
Fisher Wallace makes tools for medical diagnosis and treatment through body/mind state interpretation and/or neurostimulation therapies.
BCI Categories: Open-Loop Afferent
Neurostimulation Technique(s): TACS
Hardware
Links
Website Crunchbase LinkedIn GitHub TwitterFacebookInstagram YouTube