IMediSync
Jump to navigation
Jump to search
"iMediSync developed the first-ever sex classified EEG/HRV database and AI EEG/HRV automatic analysis cloud platform. The cloud platform iSyncBrain consists of AI automated denoising, a feature extraction pipeline from sensor level to source level, automatic quick summary reports or full reports with the database comparison, and group statistics functionality with a normative library. We completed the KFDA clinical study for our EEG screening biomarker on aMCI detection and have integrated it with the report, iSyncBrain-M1. Various collaborative research is actively undergoing to develop an EEG/HRV based biomarker for Amyloidopathy, coma prognosis, stroke rehabilitation prognosis, Parkinson pathology, depression phenotype, and determining brain lobe age for children. This will be known as the iSyncBrain-M series."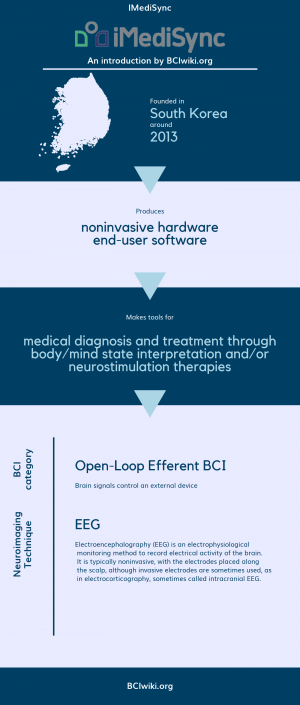 Founded in South Korea around 2013, IMediSync produces noninvasive hardware and end-user software.
IMediSync makes tools for medical diagnosis and treatment through body/mind state interpretation and/or neurostimulation therapies.
BCI Categories: Open-Loop Efferent
Neurosensing Technique(s): EEG
FDA
iMediSync has 2 medical devices registered with the FDA. Here are some of them:
Examples of FDA Approved Devices ( View List)

| Device ID | Device Name | Class | Category | PMA | PMN |
| --- | --- | --- | --- | --- | --- |
| K222838 | Normalizing Quantitative Electroencephalograph Software | 2 | Neurology | False | True |
| K220056 | Full-Montage Standard Electroencephalograph | 2 | Neurology | False | True |
Links
Website Crunchbase LinkedIn LinkedIn 2 Twitter YouTube Instagram