Imaginostics
Jump to navigation
Jump to search
"Imaginostics is a Boston-based health tech startup developing breakthrough magnetic resonance imaging (MRI) technology for precision medicine. The company's proprietary QUTE-CE MRI methodology provides biomarkers with our software that can non-invasively assay vascular structure and function in high resolution anywhere in the body, providing clinicians and scientists new endpoints for early detection and enhanced characterization of complex diseases."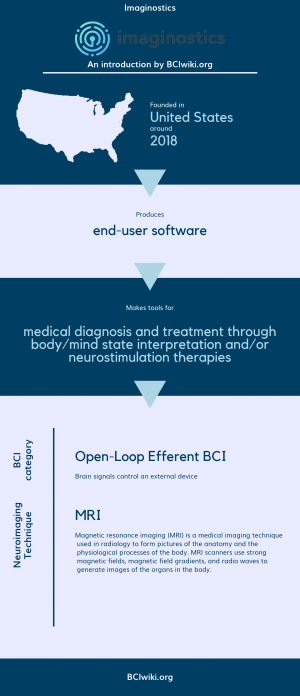 Founded in The United States around 2018, Imaginostics produces end-user software.
Imaginostics makes tools for medical diagnosis and treatment through body/mind state interpretation and/or neurostimulation therapies.
BCI Categories: Open-Loop Efferent
Neurosensing Technique(s): MRI
Software
Links