Ives EEG Solutions
Jump to navigation
Jump to search
"Ives EEG Solutions designs and builds medical devices to permit clinicians and researchers to better diagnose and treat their patients. Ives is a pioneer and innovator in the field of neurodiagnostics. We are constantly exploring, and researching new techniques and methods in the EEG field."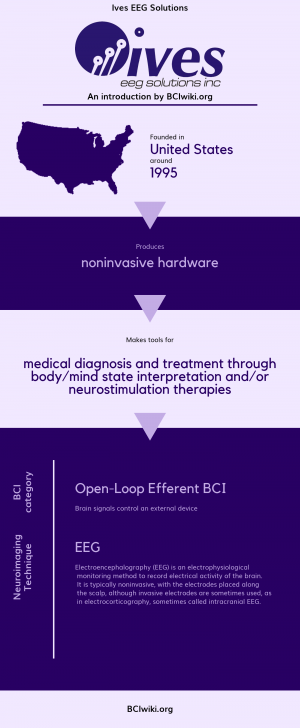 Founded in The United States around 1995, Ives EEG Solutions produces noninvasive hardware.
Ives EEG Solutions makes tools for medical diagnosis and treatment through body/mind state interpretation and/or neurostimulation therapies.
BCI Categories: Open-Loop Efferent
Neurosensing Technique(s): EEG
Links