Mainstay Medical
Jump to navigation
Jump to search
"Mainstay is a European medical device company focused on bringing to market an innovative implantable neurostimulation system, ReActiv8, for people with disabling Chronic Low Back Pain. The Company is headquartered in Dublin, Ireland. It has subsidiaries operating in Ireland, the United States, Australia, Germany and the Netherlands."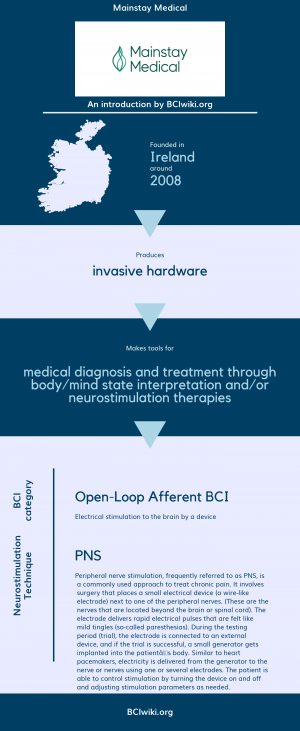 Founded in Ireland around 2008, Mainstay Medical produces invasive hardware.
Mainstay Medical makes tools for medical diagnosis and treatment through body/mind state interpretation and/or neurostimulation therapies.
BCI Categories: Open-Loop Afferent
Neurostimulation Technique(s): PNS
Links