MicroTransponder
Jump to navigation
Jump to search
"MicroTransponder has developed the Paired Vagus Nerve Stimulation System (Paired VNS System) based on decades of neuroscience research. The Paired VNS System is designed to treat several neurological conditions. Our initial focus is upper limb deficits among chronic stroke patients. The Vivistim System enables stroke survivors to regain upper limb mobility."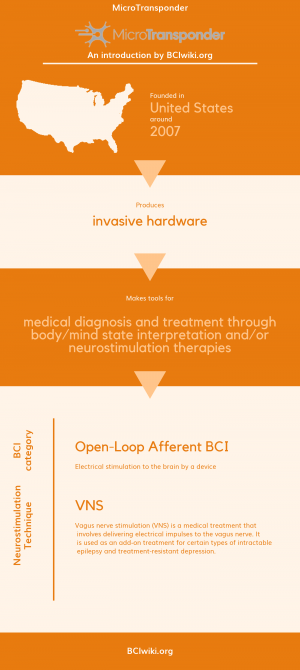 Founded in The United States around 2007, MicroTransponder produces invasive hardware.
MicroTransponder makes tools for medical diagnosis and treatment through body/mind state interpretation and/or neurostimulation therapies.
BCI Categories: Open-Loop Afferent
Neurostimulation Technique(s): VNS
Links