Modius Health
Jump to navigation
Jump to search
"Our parent company Neurovalens is headed up by CEO and founder Dr. Jason McKeown. Modius is the first product from Neurovalens that Dr. Jason McKeown successfully launched in August 2017. This ground-breaking headset has introduced a totally new way for people to lose weight by making the process easier and more enjoyable."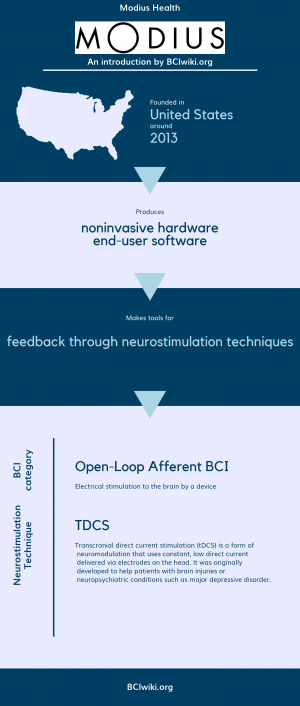 Founded in The United States around 2013, Modius Health produces noninvasive hardware and end-user software.
Modius Health makes tools for feedback through neurostimulation techniques.
BCI Categories: Open-Loop Afferent
Neurostimulation Technique(s): TDCS
Software
Links
Website Website 2 Crunchbase Twitter YouTube FacebookInstagram