NeuraLace Medical
Jump to navigation
Jump to search
"Founded in 2016, NeuraLace is a technology company with a focus on medical innovations to help to deal with nerve damage. The company is developing a non-invasive interface, bridging the gap between technology and neurology, to deliver sustainable chronic pain relief at scale (they do this with magnetic stimulation) . Currently, they have an Axon therapy product that uses this magnetic stimulation to target people with post-traumatic peripheral nerve pain (typically numbness in the foot and hand extremities)."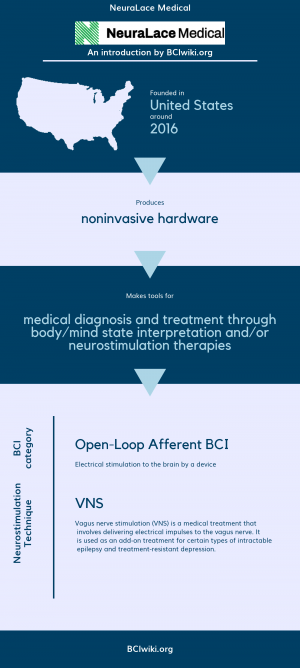 Founded in The United States around 2016, NeuraLace Medical produces noninvasive hardware.
NeuraLace Medical makes tools for medical diagnosis and treatment through body/mind state interpretation and/or neurostimulation therapies.
BCI Categories: Open-Loop Afferent
Neurostimulation Technique(s): VNS
Links