NeuroEM
Jump to navigation
Jump to search
"NeuroEM Therapeutics has developed a first-in-class, self-contained head device (the MemorEMT) to treat AD with electromagnetic waves - a therapy that we have pioneered and tested successfully in AD animal studies with no adverse events seen. Our novel, proprietary technology appears to directly affect the AD process to prevent and reverse memory impairment. The MemorEM head device, which allows for complete mobility during one-hour treatments "in home", has been successfully used in NeuroEM's recently-completed Pilot clinical trial that evaluated the safety and efficacy of Transcranial Electromagnetic Treatment (TEMT) in Alzheimer's patients. In view of its promising effects on memory in this clinical trial, TEMT could be an entirely new bioengineering-based intervention against AD."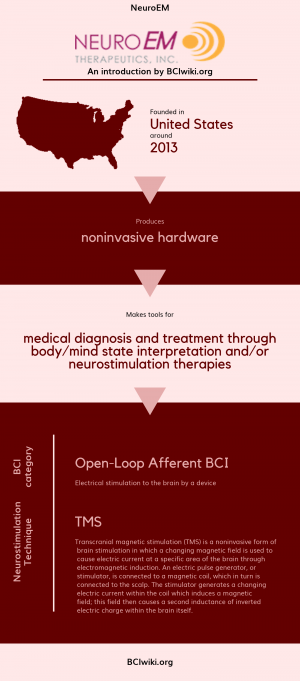 Founded in The United States around 2013, NeuroEM produces noninvasive hardware.
NeuroEM makes tools for medical diagnosis and treatment through body/mind state interpretation and/or neurostimulation therapies.
BCI Categories: Open-Loop Afferent
Neurostimulation Technique(s): TMS
Links