NeuroLutions
Jump to navigation
Jump to search
"Neurolutions, Inc. is a clinical-stage medical device company developing a revolutionary platform of neurorehabilitation devices leveraging brain computer interface (BCI) technology. The company's first product candidate, the IpsiHand Upper Extremity Rehabilitation System, or the IpsiHand System, is being developed for upper extremity rehabilitation in chronic stroke patients. "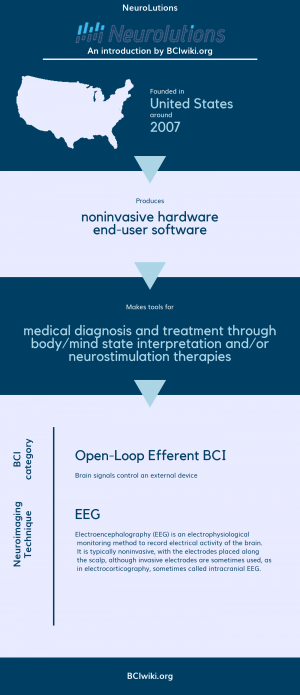 Founded in The United States around 2007, NeuroLutions produces noninvasive hardware and end-user software.
NeuroLutions makes tools for medical diagnosis and treatment through body/mind state interpretation and/or neurostimulation therapies.
BCI Categories: Open-Loop Efferent
Neurosensing Technique(s): EEG
Hardware
Links
Website Crunchbase LinkedIn GitHub TwitterFacebook Instagram