NeuroMetrix
Jump to navigation
Jump to search
"NeuroMetrix is a commercial stage company that was founded in 1996 as a spinoff from the Harvard-MIT Division of Health Sciences and Technology. The Company has three commercial products. DPNCheck is a diagnostic device that provides rapid, point-of-care detection of peripheral neuropathies. ADVANCE is a diagnostic device that provides automated, in-office nerve conduction studies for the evaluation of focal neuropathies. Quell is a wearable neurostimulation device indicated for treatment of lower extremity chronic pain. The Company is based in Woburn, MA."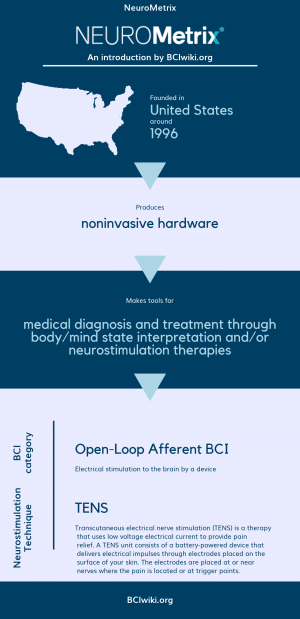 Founded in The United States around 1996, NeuroMetrix produces noninvasive hardware and end-user software.
NeuroMetrix makes tools for medical diagnosis and treatment through body/mind state interpretation and/or neurostimulation therapies.
BCI Categories: Open-Loop Afferent
Neurostimulation Technique(s): TENS
Links