NeuroPace
Jump to navigation
Jump to search
"The RNS System is an award-winning technology developed and manufactured in Silicon Valley that has been recognized for its innovation. Similar to a pacemaker that monitors and responds to heart rhythms, the RNS System is the world's first and only medical device that can monitor and respond to brain activity. NeuroPace was founded to design, develop, manufacture and market implantable devices for the treatment of neurological disorders with responsive stimulation. The company's initial focus is the treatment of epilepsy, a debilitating neurological disorder affecting approximately 1% of the population worldwide.In addition to treating epilepsy, responsive neurostimulation holds the promise of treating several other disabling medical disorders that impact the quality of life for millions of patients around the world."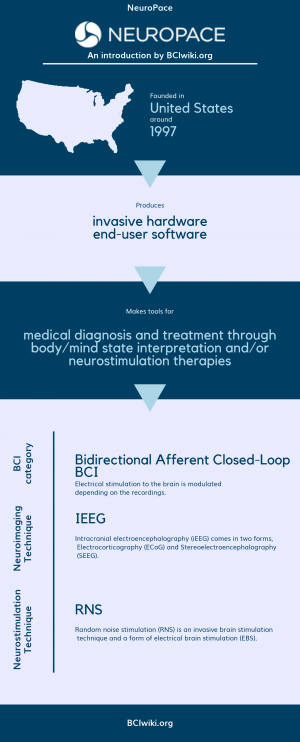 Founded in The United States around 1997, NeuroPace produces invasive hardware and end-user software.
NeuroPace makes tools for medical diagnosis and treatment through body/mind state interpretation and/or neurostimulation therapies.
BCI Categories: Bidirectional Afferent Closed-Loop
Neurosensing Technique(s): EEG
Neurostimulation Technique(s): DBS
Links
Website Crunchbase LinkedIn TwitterFacebookInstagram YouTube