NeuroSigma
Jump to navigation
Jump to search
"NeuroSigma is a California-based life sciences company established to develop bioelectronic technologies with the potential to transform medical practice and patients' lives. NeuroSigma is focused on TNS neuromodulation therapies based on intellectual property, licensed on an exclusive basis from the University of California, Los Angeles (UCLA), covering a wide-spectrum of disorders, including ADHD."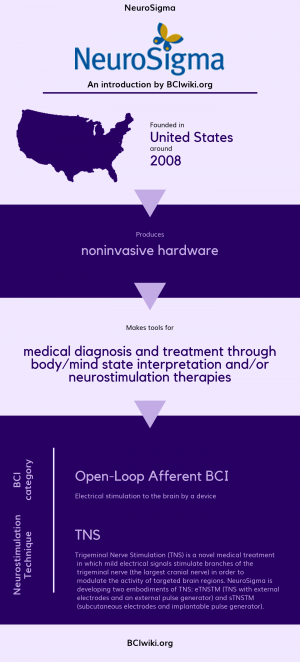 Founded in The United States around 2008, NeuroSigma produces noninvasive hardware.
NeuroSigma makes tools for medical diagnosis and treatment through body/mind state interpretation and/or neurostimulation therapies.
BCI Categories: Open-Loop Afferent
Neurostimulation Technique(s): TNS
Links