Neuromorph Inc
Jump to navigation
Jump to search
"Neural rehabilitation for post traumatic stress disorder victims and sport concussion injury atheletes. Intelligent machine learning techniques leveraging the DWAVE 2000 system for EEG source localization, neural plasticity( make blind men learn to see) and neural cell recovery."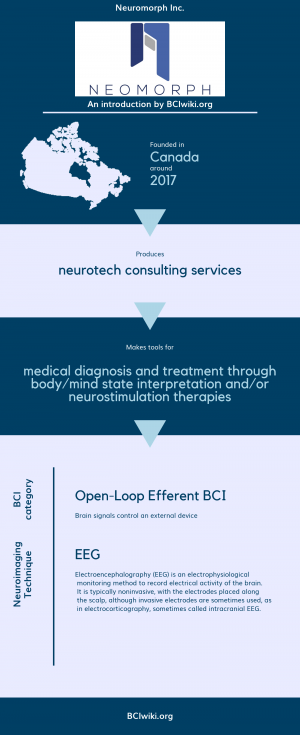 Founded in Canada around 2017, Neuromorph Inc. produces end-user software.
Neuromorph Inc. makes tools for medical diagnosis and treatment through body/mind state interpretation and/or neurostimulation therapies.
BCI Categories: Open-Loop Efferent
Neurosensing Technique(s): EEG
Links