Neuros Medical
Jump to navigation
Jump to search
"Neuros Medical, a Cleveland, Ohio based neuromodulation company, is focused on the development of proprietary therapies for unmet needs to patients worldwide. The Company's patented platform technology, Electrical Nerve Block, is focused on the treatment of chronic pain in a variety of applications including post-amputation pain, chronic post surgical pain, and chronic migraine."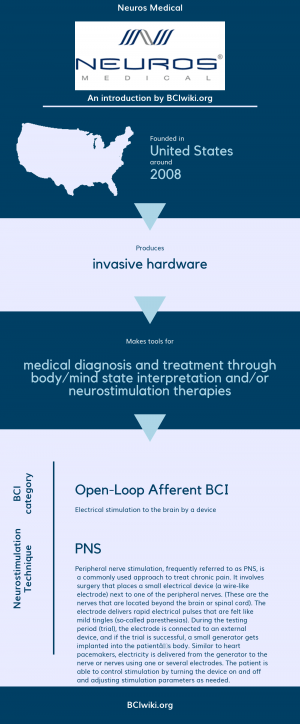 Founded in The United States around 2008, Neuros Medical produces invasive hardware.
Neuros Medical makes tools for medical diagnosis and treatment through body/mind state interpretation and/or neurostimulation therapies.
BCI Categories: Open-Loop Afferent
Neurostimulation Technique(s): PNS
Links