PathMaker Neurosystems
Jump to navigation
Jump to search
"PathMaker Neurosystems is a clinical-stage neuromodulation company founded to commercialize recent advances in the development of non-invasive devices for the treatment of patients with serious neurological disorders. We are focused on rapidly bringing to market revolutionary products for non-invasively treating Spasticity and ALS (amyotrophic lateral sclerosis). Based on extensive pre-clinical animal studies, recent elucidation of molecular mechanisms and published human clinical results, the Company is advancing an entirely novel treatment paradigm based on Multi-site Neuromodulation. Our proprietary NeuralSynchronizer technology enables the modulation of neural activity through precisely sequenced non-invasive stimulation at multiple body sites, enabled by directionally-controllable spinal level modulation."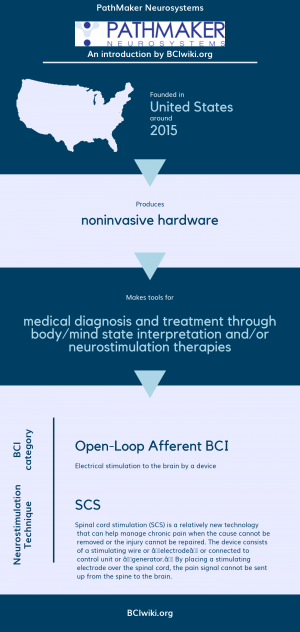 Founded in The United States around 2015, PathMaker Neurosystems produces noninvasive hardware.
PathMaker Neurosystems makes tools for medical diagnosis and treatment through body/mind state interpretation and/or neurostimulation therapies.
BCI Categories: Open-Loop Afferent
Neurostimulation Technique(s): SCS
Hardware
Links