Persyst
Jump to navigation
Jump to search
"Persyst 14 EEG Review and Analysis Software provides the complete set of tools needed for C.A.R.E (Computer Assisted Review of EEG), resulting in accurate, efficient and rapid review of EEG data. Whether for high volume institutions or for community clinics, Persyst enables the highest level of comprehensive patient care when it comes to EEG monitoring and analysis."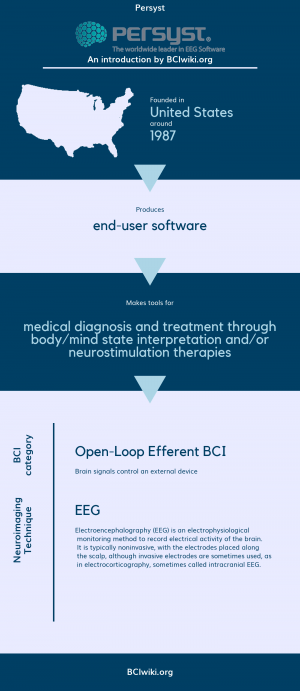 Founded in The United States around 1987, Persyst produces end-user software.
Persyst makes tools for medical diagnosis and treatment through body/mind state interpretation and/or neurostimulation therapies.
BCI Categories: Open-Loop Efferent
Neurosensing Technique(s): EEG
Links