PlatoScience
Jump to navigation
Jump to search
"PlatoScience is a team of neuroscientists, engineers, designers and doctors dedicated to making neurostimulation easy and accessible to anyone, who wants to improve the way their brain works. Backed by +15 years of clinical research, our neurostimulation headset, PlatoWork, lets you take control of your brain and release your full potential in a safe and simple manner."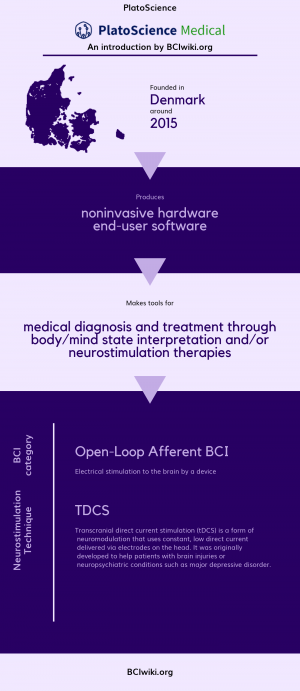 Founded in Denmark around 2015, PlatoScience produces noninvasive hardware and end-user software.
PlatoScience makes tools for medical diagnosis and treatment through body/mind state interpretation and/or neurostimulation therapies.
BCI Categories: Open-Loop Afferent
Neurostimulation Technique(s): TDCS
Hardware
Links
Website Crunchbase LinkedIn GitHub FacebookInstagram Twitter