Realeve
Jump to navigation
Jump to search
Realeve is a medical device company focused on the development and commercialization of innovative therapies for the treatment of autonomic disorders, particularly severe headache. The company acquired the intellectual property of Autonomic Technologies, Inc.'s (ATI) and continues to advance cost effective technologies for the prevention and treatment of cluster headaches as well as future indications for sphenopalatine ganglion neuromodulation.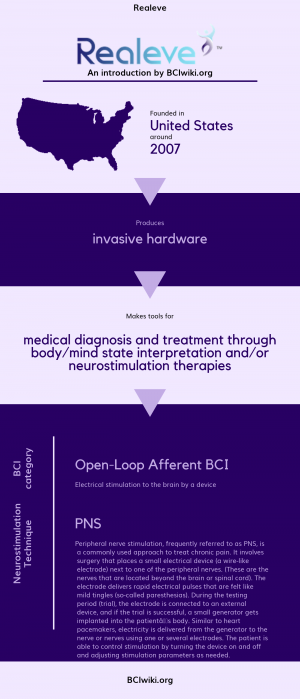 Founded in The United States around 2007, Realeve produces invasive hardware.
Realeve makes tools for medical diagnosis and treatment through body/mind state interpretation and/or neurostimulation therapies.
BCI Categories: Open-Loop Afferent
Neurostimulation Technique(s): PNS
Links