SEGOTIA
Jump to navigation
Jump to search
"SEGOTIA's founders have been developing software technologies throughout their careers. Whether Desktop Computers, Set-Top Boxes, Cloud Services or Mobile Apps, audio has always been close to our collective heart."
"Now we envisage a future where wearables deliver more than just audio: they also sense User brain activity and decode Neuro Markers which indicate the nature and extent of User Engagement & Response.
We've geared up for this next generation of Consumer Audio devices by hiring Neurotech expertise and developing collaborations with leading NeuroScience Institutions and NeuroTech Companies."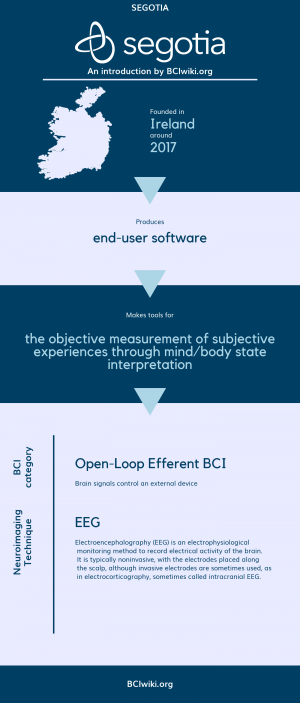 Founded in Ireland around 2017, SEGOTIA produces end-user software.
SEGOTIA makes tools for the objective measurement of subjective experiences through mind/body state interpretation.
BCI Categories: Open-Loop Efferent
Neurosensing Technique(s): EEG
Links