STORZ MEDICAL
Jump to navigation
Jump to search
"STORZ MEDICAL AG, founded in 1987, is an independent partner company of the KARL STORZ Group. We are a medical technology manufacturer located in the heart of Europe, on the Swiss shore of Lake Constance in Tägerwilen, and we develop innovative shock wave systems and shock wave devices of the highest precision."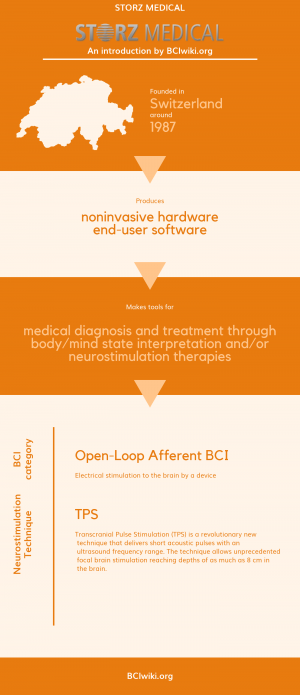 Founded in Switzerland around 1987, STORZ MEDICAL produces noninvasive hardware and end-user software.
STORZ MEDICAL makes tools for medical diagnosis and treatment through body/mind state interpretation and/or neurostimulation therapies.
BCI Categories: Open-Loop Afferent
Neurostimulation Technique(s): TPS
Links
Website Website 2 Crunchbase LinkedIn Facebook Instagram Twitter YouTube