Saluda Medical
Jump to navigation
Jump to search
"Saluda Medical is a global company revolutionizing the field of neuromodulation with an emerging portfolio of therapies driven by advanced closed-loop technologies designed to treat debilitating neurological disorders. The company's first product, the Evoke® System, is the only ECAP-controlled closed-loop spinal cord stimulation (SCS) system and is indicated as an aid in the management of chronic intractable pain of the trunk and/or limbs, including unilateral or bilateral pain associated with failed back surgery syndrome, intractable low back pain, and leg pain."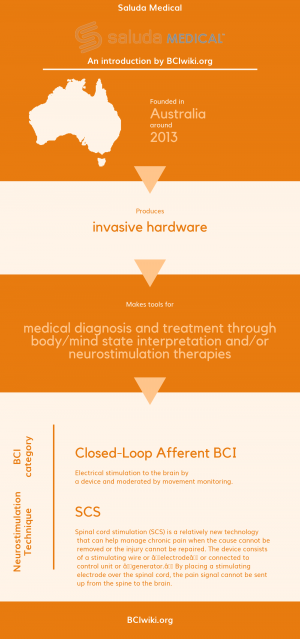 Founded in Australia around 2013, Saluda Medical produces invasive hardware.
Saluda Medical makes tools for medical diagnosis and treatment through body/mind state interpretation and/or neurostimulation therapies.
BCI Categories: Closed-Loop Afferent
Neurostimulation Technique(s): SCS
Links
Website Crunchbase LinkedIn TwitterFacebookInstagram YouTube