Syneika
Jump to navigation
Jump to search
"Syneika designs and sells medical devices dedicated to Navigated Transcranial Magnetic Stimulation.
With over 10 years experience in image-guided neurosurgery, Syneika's scientific team has worked since late 2006 in collaboration with the University Hospital Adult Psychiatry Centre of Rennes."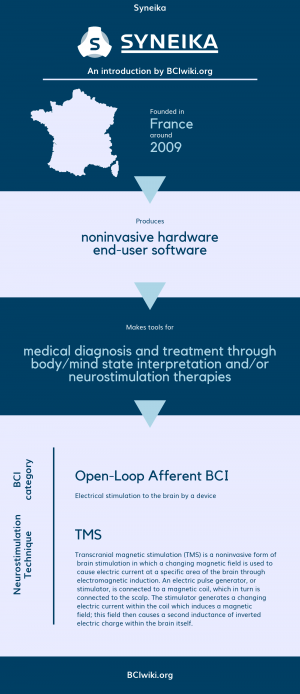 Founded in France around 2009, Syneika produces noninvasive hardware and end-user software.
Syneika makes tools for medical diagnosis and treatment through body/mind state interpretation and/or neurostimulation therapies.
BCI Categories: Open-Loop Afferent
Neurostimulation Technique(s): TMS
Links