Telemag Health
Jump to navigation
Jump to search
Founded in January 2020 by a team of 3 entrepreneurial self-starters.
The innovations were developed by a world-class industrial research lab and are patent pending.
Long history of product innovation & development.
$350,000 owner equity invested in early stage product development to date.
Extensive experience in R&D field of phyics, electronics, energy & communications.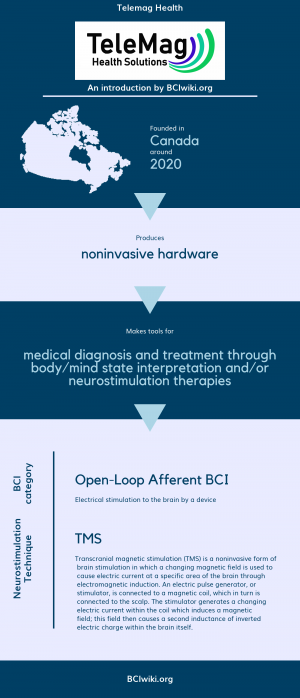 Founded in Canada around 2020, Telemag Health produces noninvasive hardware.
Telemag Health makes tools for medical diagnosis and treatment through body/mind state interpretation and/or neurostimulation therapies.
BCI Categories: Open-Loop Afferent
Neurostimulation Technique(s): TMS
Hardware
Links